Jeannette Wall Lights
Are you looking to brighten up your home with stylish, new wall lights? Jeannette area residents know just where to go for all of their lighting needs; Hummell Brothers. We are the trusted name in lighting and can help you choose the perfect lighting fixtures for your unique home or business.
The wall light category includes bathroom lighting, sconces and task lighting. Wall lights are an impressive and space-saving way to add much needed lighting to any room. For example, scones on the side of a bathroom vanity will allow light to be more evenly distributed across the face. And, wall lights in the living room offers a stylish embellishment while illuminating the room without taking up much needed floor space.
At Hummell Brothers, we offer a wide variety of wall lights for all of your lighting needs, including: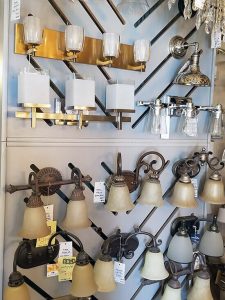 Wall lamps
Wall sconces
Bathroom lighting
LED wall lights
Outdoor wall lights
Swing arm wall lights
Picture lights
And more
And, these are just some of the wall lights we offer at Hummell Brothers! We have all styles from traditional to contemporary and many top brand names, including Hinkley, Thomas, Kichler, Elk, Maxim and many more. We are proud of our vast collection of lighting fixtures and are confident our experienced lighting experts can help you find the right style fixture for your unique home. We know everyone has different tastes and styles, so we do our very best to accommodate all needs and wants. Stop by our showroom today to see all we have in stock and find the right wall lights for you.
Wall Lights from Hummell Brothers
There are so many reasons to make Hummell Brothers your first and last stop in your search for new wall lights. For almost a century, we have been serving the Jeannette area by offering quality lighting fixtures and electrical products. We provide lighting for residential, commercial and industrial projects. No lighting need is too big or too small!
Since 1925, we have provided quality products and service for the surrounding area. In addition to wall lights, we carry ceiling lights, outdoor lights, ceiling fans, lamps and more.
Our goal at Hummell Brothers is to provide all types of lighting that may be needed for any home or business. Since lighting is such an integral part of design, we know customers like to see lighting fixtures firsthand. That's why we have so many lights on display at our store. We want you to see, touch and experience each lighting product.
Ready to get started creating the perfect lighting experience in your home or business? Visit our lighting showroom and find the right wall lights and other lighting fixtures for your lighting improvement project!
Contact Us About Wall Lights
Are you ready begin your lighting project or are you just looking to browse our selection of wall lights in Jeannette? If you would like more information, feel free to call us at 724-523-3611 or contact ustoday at Hummell Brothers.