Lighting Store Westmoreland County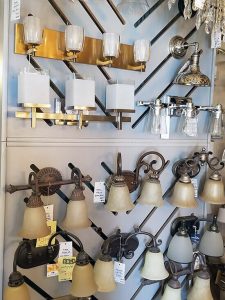 If you need new lighting for your home or business in Westmoreland County, Hummell Brothers is the place for you. Since 1925, we have provided quality products and service for the surrounding area. We can help you find the light fixtures you need for your project.
Our lighting store in Westmoreland County has more than 1,000 lights and ceiling fans on display. You will not be disappointed by a lack of choices! Whether you need indoor lights, outdoor lights, lamps or other accessories, we can help!
We have experienced staff who can help you find what you need. We can even assist with lighting design so you will have adequate lighting that fits your style. We are ready and able to answer any questions you have about lighting, light fixtures and the electrical components that go with them.
About Our Lighting Store
For more than 90 years, we have been serving Westmoreland County by offering quality lighting and electrical products. We provide lighting for residential, commercial and industrial projects. No lighting need is too big or too small!
We carry ceiling lights, wall lights, outdoor lights, ceiling fans, lamps and more. We have all styles from traditional to contemporary and many top brand names, including Hinkley, Thomas, Kichler, Elk, Maxim and many more. We are proud of our vast collection of lighting products. We know everyone has different tastes and styles, so we try to accommodate all needs.
We have seen the evolution of lighting design over the years. No longer just functional, lighting has now become part of a home's design. LEDs have drastically altered the way we view light bulbs, making them last longer and run more efficiently. Track lighting, flush mount lighting, pendants, chandeliers and lamps all play a role in a home's design and functionality.
Our goal at Hummell Brothers is to provide all types of lighting that may be needed for any home or business. Since lighting is such an integral part of design, we know customers like to see lighting fixtures firsthand. That's why we have so many lights on display at our store. We want you to see, touch and experience each lighting product. That's something you just can't do shopping online.
So, the next time you are looking for a new light fixture or have an entire space to illuminate, visit our lighting store in Westmoreland County
Contact Our Lighting Store
If you are ready to begin your lighting project or just want to browse our selection for ideas, visit our lighting store in Westmoreland County. If you would like more information, feel free to call us at 724-523-3611 or contact us.