Have you had trouble keeping your home cool this summer? Have you noticed areas of the home that are more difficult than others to keep cool? You may have also noticed your old ceiling fans have become outdated or are working overtime trying to keep your living space cool. Even if you're lucky enough to have a quality air conditioning system in your home, it might be a good idea to consider adding some fans or replacing old ones. Ceiling fans not only help make your home cooler, they also add unique style to a room's décor. There are so many great benefits to installing new ceiling fans at your Monroeville home! They allow you to control the temperature room by room, are energy efficient and best of all, they'll allow you to save money on your monthly energy bill. As the experts in lighting fixtures and ceiling fans for the entire area, we've put together an outline of the best ceiling fans for each room of the home. And when you're ready to find the right ceiling fans for your unique home, stop by our showroom to see all that we have to offer.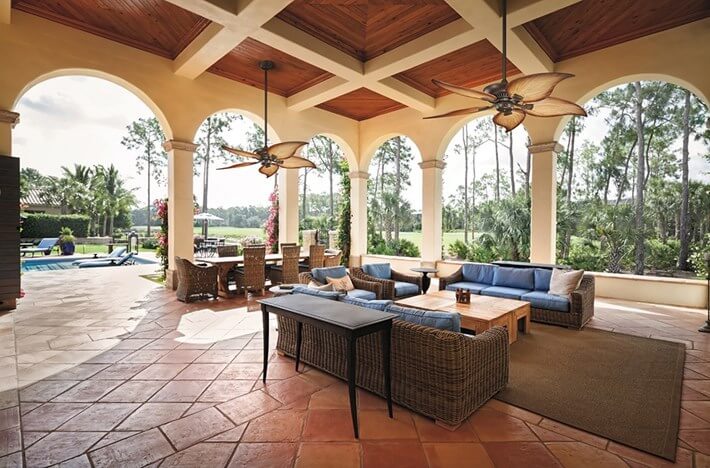 Outdoor Patio
An outdoor patio is one of the best places to install a ceiling fan. Since your outdoor living room or patio is outside, you won't be able to cool the area via air conditioning; so a ceiling fan will be your best bet. Paddle fans offer charm and style as well as efficiency in moving the air, keeping bugs at bay and keeping your guests happy. Choose a ceiling fan with dimmable lights to set the mood for an outdoor dinner party!
Living Room
The living room is a great space to make a bold statement in the heart of your home. Whether your living room's style is classic, industrial modern, mid-century modern or farmhouse chic, there is a ceiling fan to complement that.
Kitchen
A fresh idea in a modern kitchen design, an industrial modern or wood slat style fan will keep you cool while you cook. And, our fans with lights provide the right lighting for your culinary creations.
Bedroom
Homeowners enjoy the many benefits of having a ceiling fan in the bedroom for its air circulating abilities. A ceiling fan with dimmable lighting is perfect for reading in bed, plus the gentle breeze will help keep the room cool enough for sleep.
And, these are just some of the rooms that could benefit from a beautiful, new ceiling fan! Interested in ceiling fans for your Monroeville area home? For more information or for help finding the right fans for your home, feel free to call us at 724-523-3611 or Contact Us today.